SUNUV 2-in-1 UV LED Nail Dryer & Sterilizer SUN15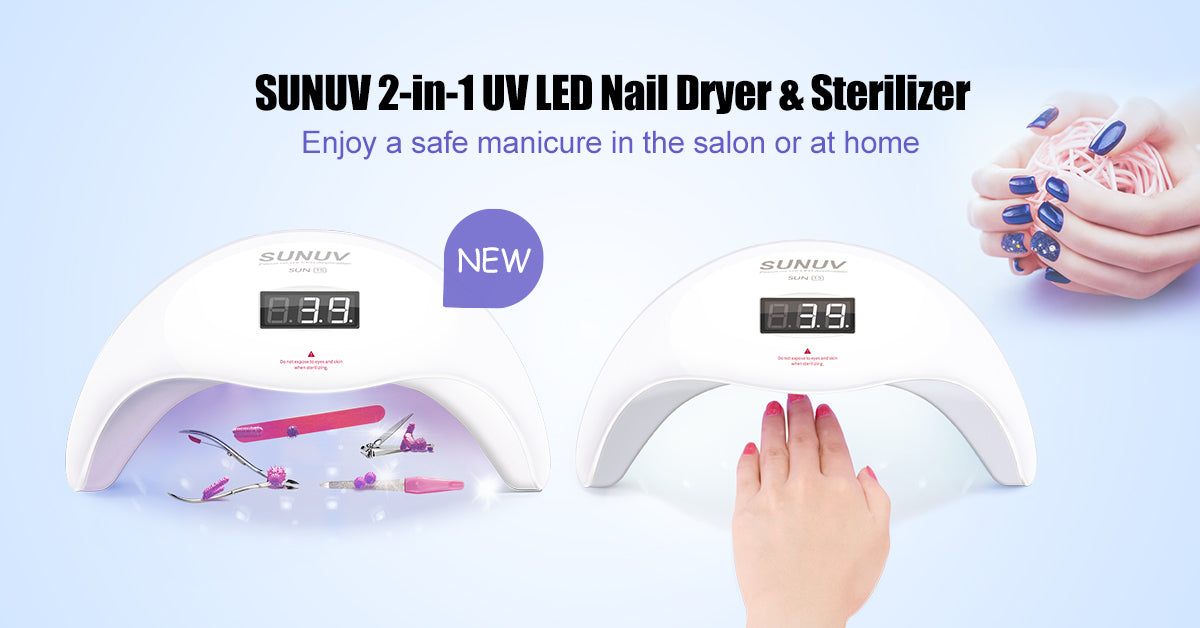 ABOUT THE PRODUCT SUNUV 2-in-1 UV LED Nail Dryer & Sterilizer SUN15
Cure All Gels---

Hard Gels, Builder, sculpture gel, gem glue, etc.. No brand requirements though. No need to worry about replace the beads.

Fast and Easy to Use---It is quick-drying which can shorten your curing time by 50% or overheat than other traditional dryers.

Ideal For Home and Salon Use--- Fashion appearance and wide zone make it easier to cure 5 fingernails or toenails at the same time.

Powerful Sterilization---Disinfect the nail tools, phones, and other items.
ITEM SPECIFICS
Item: SUNUV 2-in-1 UV led nail dryer& sterilizer

Brand Name: SUNUV

Model: SUN15

Lamp input voltage: 100-240Vac 50/60Hz 1A

4 Timer Settings: N

ail dryer(30s, 60s, 120s), Sterilizer(180s)

LED QTY: 20pcs UVA LEDs, 4pcs UVC LEDs

LED Wavelength: UVA(365nm+405

nm), UVC(260-280nm)

Size:

 

207*194*97mm

Lifetime:

50000hrs
HOW TO USE
Nail Curing
Apply a thin layer of the Gel Polishes according to its usage instructions to the clean, dry nail without touching the cuticle or skin alongside the nails.

Use the curing timer(30s/60s/120s) as per your gel polish's requirements.

Press 30s/60s/120s button, the timer goes countdown; when the infrared sensor is triggered, the timer goes count up.

 Please note that curing time vary based on the gel polish brand. SUNUV SUN15 works for all kinds of gel polishes, not for regular nail polish (regular polish use air-dries or fan).

If gel polish is a little sticky after curing, please wipe your nails with a gentle cleanser or rubbing alcohol to get rid of the sticky residue left behind.
Sterilizing Procedure
Put nail tools, phones and etc. inside of the lamp

Press the sterilization button to start 180s disinfecting, you will hear a double beep notifying you that the disinfection is active, and LCD screen starts timing till completion. Press the sterilization button once again to quit disinfecting.

Sterilization for any of surface

Don't expose to eyes and skins when sterilizing.
SAFETY WARNING
Don't expose to eyes and skins when sterilizing.

When the timer doesn't work, stop using the product
Keep away from water or high humidity
Do not keep the machine working continuously for over 600s, otherwise, it may reduce its lifespan
It is recommended that curing time for base gel and color gel should not exceed 60s, and that of topcoat should not exceed 90s.
Not suitable for people who are sensitive to UV.
When not in use, please unplug.