59S P11 UV Light Sanitizer Bag with 9 UVC Bulbs for Baby Supplies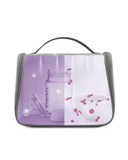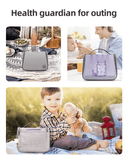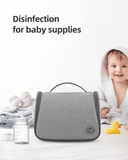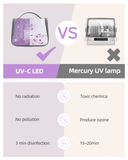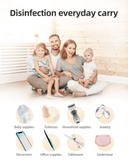 59S P11 UV Light Sanitizer Bag with 9 UVC Bulbs for Baby Supplies
Powerful UVC Energy
Equipped with 9 long lasting third generation UVC LED beads, 260-280nm wavelengths to sterilize.
360° Full Disinfection
Via the inner high reflective material, built-in uvc light can reach 360° full disinfection without blind spots, safe and eco-friendly, without radiation, residue, or secondary pollution.
Specification:
Power Source: 2000mAh power bank
Input Interface: 
Micro USB

(5V-2A)



Power: 8
W
Size:
9.84*7.48*4.72 inches
Net weight:
12.34 oz
LED Lifespan: 10000 hours
How to Use
Packing List:
1 x UV Light Sanitizer Bag P11
1 x USB Cable
1 x User Manual
1 x UVC Testimonial
59S products are totally 100% ozone free, chemical-free, and eco-friendly. 59S products include mum and bab, mobile phones, glasses, clothes, jewelry, medical series, household series, beauty series, travel series. 59S products are tested for effectiveness and have complete test reports such as SGS, FDA, EPA, CE, BSCI, etc.