59S UV Light Sanitizer, Flexible and Portable UVC Lamp (L1)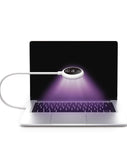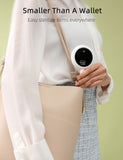 59S UV Light Sanitizer Lamp Flexible and Portable UVC Lamp (L1)
Designed as an usb lamp, not only has UVC light but also be a LED lamp in 4000K white warm light. The USB powered connected with power bank, USB charger or USB port, etc., gives it a more convenient and broadway to use.
Be safer and cleaner in daily life.
Disinfection Meets Illumination
12 energy-efficient LED diodes provide flicker-free, eye-friendly light. 5 built-in UV-C diodes generate UV light in the 260–280nm wavelength for sterilization 

Sanitizer Timer
Easily set the timer for 5, 10, 30, or 60 minutes depending on the size of the area you want to disinfect. An advanced bodyheat sensor turns of the UV-C light when people approach and resumes disinfection when they leave to ensure safe usage.
Portable UV Light
Compact size, measuring 15 x 2.78 x 7in. The flexible and foldable gooseneck allows 59s uv sanitizer to be bent in any direction to reduce space occupation, easily fit into a bag or pocket.

Specification:
USB Interface: USB Type-A
Dimension: 15*2.78*7 inch
Weight: 2.57 oz
Power: 5 W
Voltage: 5 V DC
Wavelength: 260-280 nm
Detection Range: 1.64-4.92 ft
UVC LEDs: 5 Beads
Lighting LEDs: 12 Beads
Indicator LEDs: 10 Beads
Packing List: