59S (P26) UV Light Garment Sanitizer Bag with 12 UVC Bulbs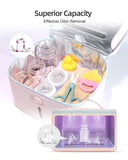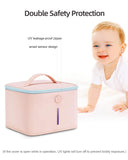 59S (P26) UV Light Garment Sanitizer Bag with 12 UVC Bulbs
Specification:
Model: P26
Number of UV-C diodes: 12
Input: 5V=2A
Wavelength: 260-280nm
Lifespan: 10,000 hours
Power Supply Interface: Micro USB
Dimension: 9.44x7.67x5.9 in
Weight: 16.58 oz
Features: 
UV Light Sanitizer Bag (Pro Version)
Care more about mom's health! Quickly disinfect the garment. Reduce the risk of  UTI and skin problems. ( Urinary tract infections(UTIs) are one of the most common complications women experience during pregnancy.) 
360° Hospital-Grade UV-C Disinfection
12 built-in hospital-grade LED UV-C diodes, stainless steel holder, and highly reflective inner surface ensure quickly and effectively sterilization.
Portable & Light Weight
The large size UV sterilizer bag (9.5 x 7.7 x 5.9 inches) only weighs 1 lb, features lightweight.  A reinforced handle and a back storage pocket for the power bank make it easy to carry during travel

Baby Safe
No radiation, no residue, no secondary pollution. If the cover is open while in operation, UV lights will turn off immediately to prevent any unwanted UV rays.
No Cleaning or Descaling
Unlike traditional steam sterilizers which require daily cleaning to prevent limescale and rust forming, ours uses ultraviolet light and requires no cleaning or descaling
How to Use 

Sterilization Bag P26
Free shipping to the US/CA from US warehouse
Free shipping to the following countries from Germany warehouse
Bulgaria,Hungary, Luxembourg, Cyprus, Austria, Greece, Germany, Italy, Latvia,   Czech
Republic
,
Slovakia
,
Slovenia
,
Belgium
,
France
,
Poland
,
Ireland
,
Estonia
,
Sweden
,
Lithuania
,
Romania
,
Finland
,
United Kingdom
,
Portugal
,
Spain
,
Malta. 
The others will ship from China warehouse
Guaranteed safe + secure checkout
100% money-back guarantee
Certifications: FDA, FCC, CE, SGS, RoHS, GT
What's in the Box?
1 x 59S UV Light Garment Sterilization Bag
1 x Holder
1 x User Manual
1 x Test Report
1 x Power Adapter