59S UV Sanitizer box for beauty tools (S2)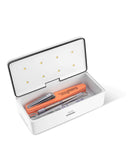 About the product 59S UV Sanitizer box for beauty tools (S2)
Far-UV Light Disinfector:  This sterilizer disinfects by emitting ultraviolet light with a wavelength of 260nm-280nm through 8 LEDs

Safety Protection: Built-in particular safety switch, the UV LED light will be shut off once the sterilizing box is opened.

Application: Sterilizing for any of surfaces, such as a shaver, nail scissors, glasses, cosmetic tools, etc.

Warranty: One-year warranty
Item specifics:
Brand Name: 

59S

Disinfection time: 180

 seconds

Model Number: S2

Power Source: 

Electric

LED QTY: 

8pcs

Input Interface: Tap C

LED Wavelength:

260-280nm

Power: 8

W

Commodity Quality Certification:

3C,CE

Material: 

Plastic

Size:

8.5*4.1*2.8 inch

Power: 7

W

Net weight: 375

g
How to use it?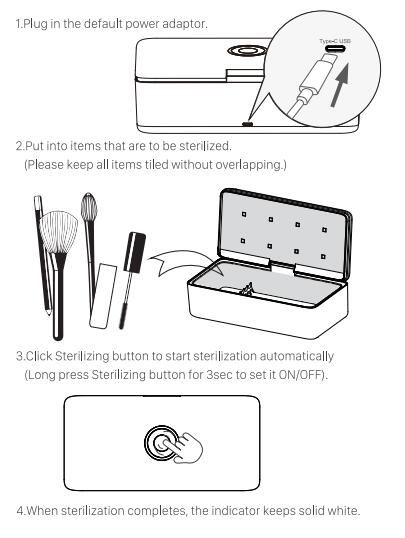 How does the Ultraviolet Sanitizer work?
Why UV-C Technology?
UVC has been widely used in cupboard sanitizer and sterilizing devices in hospital for 60 years. 
Why do you need a sterilizer?

Premium Quality makes it good looking and practical. The attractive color design brings you a good mood.
This innovative sterilizer keeps your kid's commonly used items sanitized and your family safe from the harmful germs that we encounter every day.
Great Choice for Daily Disinfection!
Makeup brushes, baby bottle, wipes, underwear, towel, toothbrush, cellphone, earphones, jewelry(excludes silver)
Beard trimmer, nail clippers, tweezers, nose hair trimmer, an electric razor for men, hairbrush, razors for men
Facial cleansing brush, nail file, mouth guard, small toys and more
Certifications: