59S® Portable UV Light Sterilizer Wand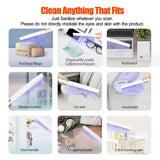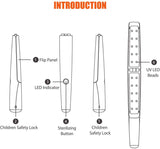 59S® Portable UV Light Wand
Compact: easy to use and carry


No ozone, no chemical

Portable UV Wand

UV Sterilizer for anywhere and anytime

Safety Design with child lock

One Year warranty

Air travel allowed.
Specifics:
Brand Name: 59S

Asin: B082SM33PR
SKU: X5SUNEU001-FBA

Power Source: 

Rechargeable Battery

Disinfection time: 

5-10 times scan in 3cm

Model: 

X5

Light bead life: 10000hours

UV LEDs: 

20 pcs




Rate Input: 

5V/1.5A

Input Interface: 

Micro USB

Light wavelength: 260-280nm

Size: 

257*42*40mm

Net Weight: 

200g

 
How to Use handheld UV light sanitizer?
1. Fully charge your UV Disinfection Wand with a compatible charger.
2. Unlock the safety lock and unfold the flip panel.
3. Double click the sterilizing button to start the process.
4. For the best result, it is recommended to scan back and forth on the surface for 5 to 10 times with a distance of approximately 1 inch.
5. Disinfection will finish automatically in 3 minutes or you may press the button again to stop the process at anPacking: Product + Bag+ Micro USB + Instruction manual
UV Wand Special Design Functions
1. For transportation safety, the product has no electricity or only a little electricity when it leaves the factory. The first use requires a full charge. It takes 3 ~ 4 hours to fully charge. Generally, it can be used for 50 minutes after being fully charged.
The applicable adapter specifications of the product are:
5V 1A, full charge time is estimated to be 3 ~ 4 hours.
5V 2A, full charge time is estimated to be 1 ~ 2 hours.
2. In order to prevent ultraviolet rays from directly hitting the eyes and skin, we deliberately added gravity sensing function to the product. As long as the product rollover angle is greater than 45 degrees, the gravity sensor will cause the product to automatically turn off the light. This is a special function design, please do not think that the product is defective.
3. The product on/off switch has also had a quick double-click function. It is also a product specifically designed to prevent children from using it. Because children under 5 years old can't do double-click action under 200 milliseconds. Therefore, when you double-click the product switch, you need to double-click the switch quickly.
Certifications: