59S UV Light Sanitizer bag with 24 UVC Leds, XL Portable UV sterilizer box P55(Pro)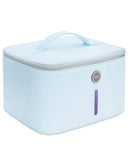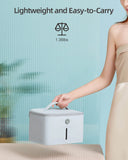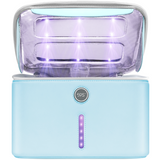 59S UV Light Sanitizer bag with 24 UVC Leds XL Portable UV sterilizer box  P55(Pro)
Give a healthy life to your family, hospital-grade UV light sanitizer bag blue with 24 UVC LEDs. Disinfect almost anything that can be put into. 
Available for baby bottles and nipples, plush toys, clothes, tableware, kitchenware, and just about anything that fits in. 
Details
360° Hospital-Grade UV-C Disinfection: 24 built-in hospital-grade UV Led, stainless steel holder, and highly reflective inner surface ensures quickly and effectively UV light sterilization.
Portable & X-Large Capacity: the 59s uv sterilizer can fit up to 4 cell phones, 6 baby bottles and nipples. Also safe for plush toys, clothes for baby, tableware, kitchenware, and just about anything that fits in.

Baby Safe: 

EPA filing (EPA Est. No.95175-CHN-1)SGS, FCC, EPA certified. no radiation, no residue, no secondary pollution. If the cover is open while in operation, UV lights will turn off immediately to prevent any unwanted UV rays.

No Cleaning or Descaling:

Unlike traditional steam sterilizers which require daily cleaning to prevent limescale and rust forming, ours uses ultraviolet light and requires no cleaning or descaling
Specification:
Model: P55 

Pro
Number of UV-C diodes: 24
Input: 5V=2A
Wavelength: 260-280nm
Lifespan: 10,000 hours
Power Supply Interface: DC
Dimension: 240 x 196 x 150mm
Weight: 520g
Drying Function:Yes

What's in the Box:
1 x 59S Sterilization Bag ( Model: P55 Pro
)
1 x Power Adapter
1 x User Manual
Free shipping to the US/CA from US warehouse
Free shipping to the following countries from Germany warehouse
  Bulgaria,Hungary, Luxembourg, Cyprus, Austria, Greece, Germany, Italy, Latvia,   Czech
Republic
,
Slovakia
,
Slovenia
,
Belgium
,
France
,
Poland
,
Ireland
,
Estonia
,
Sweden
,
Lithuania
,
Romania
,
Finland
,
United Kingdom
,
Portugal
,
Spain
,
Malta. 
The others will ship from China warehouse
Guaranteed safe + secure checkout
100% money-back guarantee
Certifications: FDA, FCC, CE, SGS, RoHS, GT